Ceramic Coating Increase Boat Value With Showroom Finish
Are you constantly looking for ways to sell boats faster and for more value?
As a boat dealer, I bet you are thniking what an obvious answer to that question. Yes!
But, you may have at times where a client has traded in their boat that is in poor condition and challenging to sell.
You know restoring the original finish will increase the chances of making a great first impression on potential buyers. But, your service team may be tied up on other projects and haven't got a chance to give her a deep clean.
Does this issue sound familiar?
It is does, we would like to share a developing story with Nautical Ventures that may help you and your clients sell boats faster and for more money.
This week, the Glidecoat Dealer Support team visited the Dania Beach location for Nautical Ventures. They were experiencing the issue of an 2017 18′ Glassstream 180cc sitting on the lot and just not selling. Unfortunately, with lots of dust and construction near by, the boat looked less than desirable and needed some love.
We teamed up with Nautical Ventures to conduct a test: Detail and apply Glidecoat Ceramic Coating to bring the boat back to showroom finish with the ultimate goal of speeding up the sales time and increasing the value of the sale.
The Process To Apply Glidecoat Ceramic Coating
Our process includes 5 steps to restore the boat back to showroom finish by;
1). Wash the boat
2). Compound with machine buffer
3). Polish with machine buffer to enhance shine & remove any remaining marks, scratches and stains
4). Apply decontaminate – sterilizes the surface before the last step
5). Apply Glidecoat Ceramic Coating
In the two photos below shows a side-by-side comparisons with untouched section vs Glidecoat applied to the boat. As you will note, a clear line in the middle of the pictures, but most importantly, the showroom finish and enhanced shine.
Better Shine Than Brand New Gelcoat
As you know, used boats loose their shine and finish with use and exposure to the elements.
One of the key advantages of Glidecoat is restoring the boat shine and finish as well as locking in gelcoat to protect the boat going forward. On average, Glidecoat lasts at least 3-4 times longer than traditional wax.
A tool we highly recommend to our clients and use on a regular basis to demonstrate is a Gloss Meter.
A Gloss Meter is a device to measure the reflection gloss of a surface. As a point of reference, a brand new boat with gelcoat will render readings between 82-85.
Before, we got started the 2017 18′ Glassstream 180cc got readings of 52.3.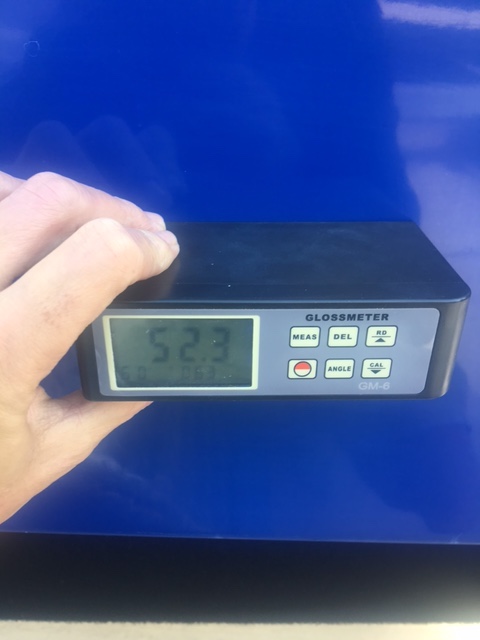 After completing our preparation steps and applying our ceramic coating, the gloss meter readings jumped to 96.1. As previously mentioned, this is significantly higher than the standard readings of 82-85 for a brand new boat.
Finish Product
Sales Strategy For Boat Dealers Going Forward
Nautical Ventures saw the vision of applying Glidecoat as helpful for both their business as well as the boat owner.
• Significantly boost the visual appeal of the boat (hopefully help drive up the price)
• Reduce turnover time (the boat had been sitting on the lot for a considerable amount of time)
• Easy maintenance for the new boat owner as Glidecoat lasts for up to 18 months here in South Florida (winning!!)
Both us and Nautical Ventures are interested to see the affect on the sales cycle after applying Glidecoat earlier this week!
If you are a boat dealer and looking for ways to up-sell or increase the turnover of your boats, contact us here at Glidecoat to discuss options.
We are happy to help.
And, if you want to meet us in person to learn more, visit us at the Palm Beach Boat Show, March 22-25th in the Nautical Ventures AquaZone.